The Family Medicine Residency Program is designed so each resident assumes increasing patient management responsibilities commensurate with his or her professional development and maturity. In our program, the family medicine resident (while serving on the medical, pediatric, emergency medicine or obstetrical services) enjoys all the privileges and responsibilities of comparable residents in these specialties. Family Medicine residents receive hands-on experience in various procedures and examinations, including critical care, code blue management and other patient care interactions in our state of the art Simulation Center on campus throughout the 3 years of residency.
PGY-1
All first year residents begin with a two week long orientation at end of June. The residents then spend two months on general internal medicine, two months on pediatrics, two months on obstetrics, one month in the MICU, two months in the emergency department, one month newborn nursery and one month of inpatient family medicine.
In October of PGY-1 year the entire PGY-1 class is together for Family Medicine Skills I, an outpatient family medicine rotation free of nighttime and weekend responsibilities.
During this year, the resident acquires families for whose care he or she will be responsible during the remainder of training. The resident spends one half-day per week in the Family Medicine Center. The emergency medicine rotation involves approximately 20 shifts during the month.
PGY-1 Schedule
1 Month
2 Months
1 Month
2 Months
2 Months
1 Month
1 Month
2 Months
Ambulatory
Skills I
Pediatric
Ward
Intro to
MICU
Internal Medicine
Ward
Obstetric Ward/
Clinics
Newborn
Nursery
Family Medicine
Inpatient Service
Emergency Medicine:
Union Residents Only:
During 1st 6 mos @ Main,
2nd 6 mos @ Union
Average 20 shifts
Family Medicine Center – 1 half day/week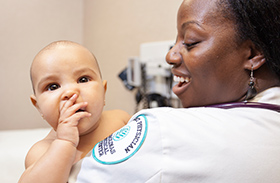 PGY-2
During year two, the residents spend one month in the adult intensive care unit. During their cardiology rotation, residents work one-on-one with cardiologists in the inpatient and outpatient settings. Residents spend one month doing outpatient pediatrics during which time they rotate through various subspecialty clinics, in addition to the general pediatrics clinic.
In August of PGY-2 year the entire PGY-2 class is together for Advanced Family Medicine Skills II, an outpatient family medicine rotation free of weekend responsibilities.
Residents also spend one month in each of the following rotations:
Geriatrics
Gynecology
General Surgery
Orthopedics
Family Medicine Subspecialty Clinics
In addition, three months is spent on the family medicine inpatient service. Three half-days per week during the remainder of the year are in the family medicine center, except when in the ICU.
In addition, there is an innovative longitudinal curriculum that incorporates experimental & didactic training the second year.
Behavioral Health
(QI) Quality Improvement
(HSM) Health Service Management
Scholarly Work
Community Medicine
PGY-2 Schedule
3 months
1 month
1 month
1 month
1 month
1 month
1 month
1 month
1 month
1 month
Family Medicine Inpatient
Family Medicine Clinics
Cardiology
Outpatient Orthopedics/Sports Medicine
Gynecology
Ambulatory Skills II
Geriatrics
Peds Clinic
Surgery Ward/Clinics
Adult IntensiveCare Unit
4 nights call per month
2-3 nights call per month
24 shifts per month With NF
FMC 1 wk night float
FMC 1-2 half days/wk
FMC: On average 3-4 half days/wk
FMC 2-3 half-days/month
Applies to All Sites:
Call PGY-2 is in-house for at least the first 3 months; home call privileges granted on an individual basis
Union Site Only:
Average 4 nights of call per month - 2 no-call months FMC: 3-4 half days/week at Union Family Practice, except Family Medicine Inpatient: 1 half-day per week

PGY-3
Three months are spent on the family medicine inpatient service. Three to four half-days per week are spent in the FMC throughout the year. The remaining nine months are divided among medical subspecialty rotations including one month at the Charlotte VA Health Care Center.
Three months are available for electives. Popular electives include radiology, international health, Urgent care, integrative, maternal child health, medicine or pediatric subspecialty rotations.
Electives are individualized according to residents' individual future career plans and educational needs. Residents can choose an area of concentration for all 3 electives.
A longitudinal curriculum brings all upper level residents together to do advanced study in areas that will prepare them for future practice. These areas include health systems management.
PGY-3 Schedule
3 months

2 months

2 months

1 month

1 month

1 month

3 months

Family Medicine Inpatient
Medical/Surgical
Subspecialties

Family Medicine Clinics
VA Health Care Center
Health Systems Management
Sports Medicine/UNCC Student Health
Electives
1 wk
Night float


3-4 call nights/month


2 home calls per month

FMC

2/week
Family Medicine Center 4-5 half days/week
Union Site Only:Average 4 nights of call per month - 2 no-call months
FMC: 3-4 half days/week at Union Family Practice, except
Family Medicine Inpatient: 1 half-day per week