Message From the Program Director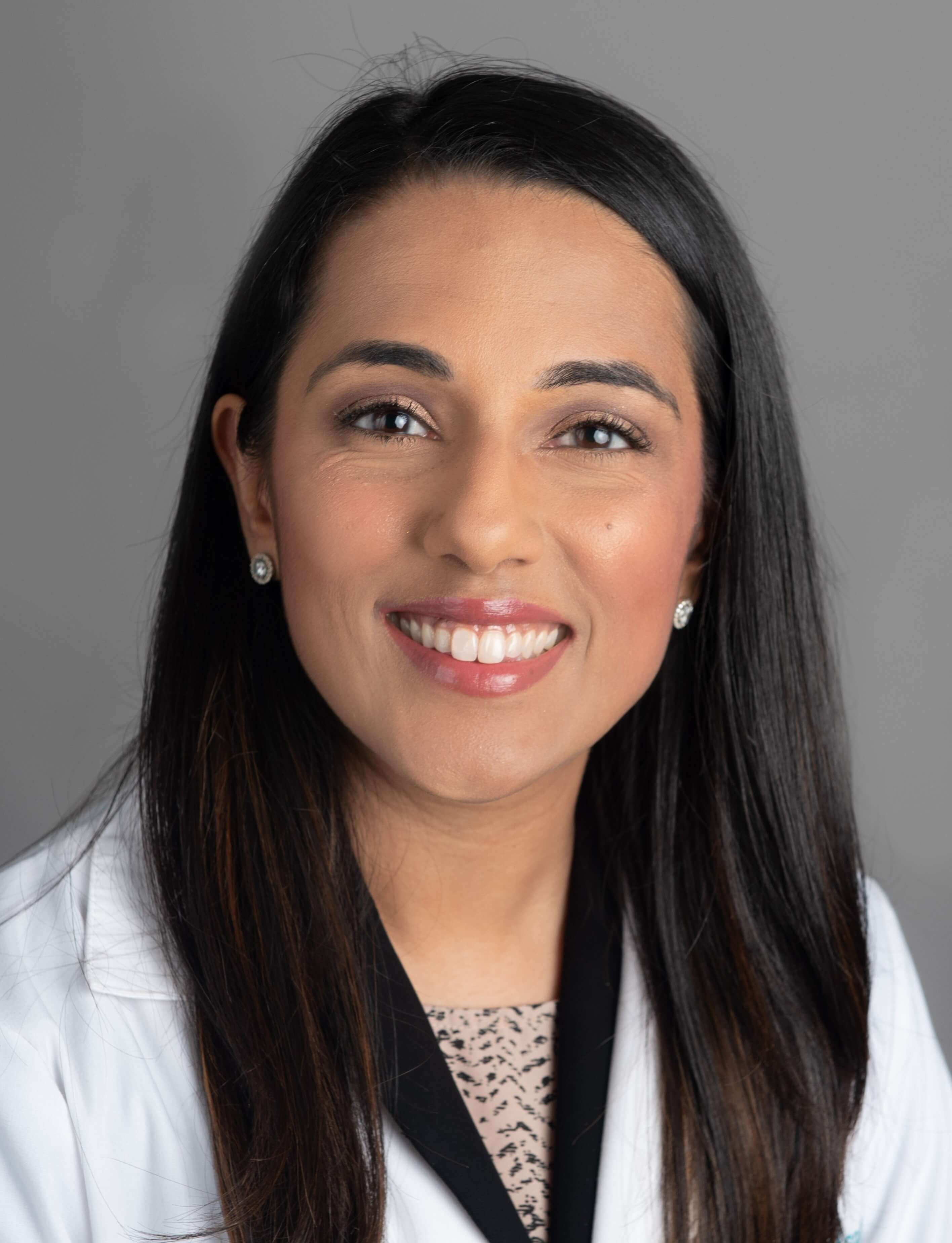 "Welcome to Carolinas Rehabilitation Brain Injury Medicine Fellowship training program. We are a one-year, ACGME-accredited fellowship training program offering one fellowship position per year. The program provides a conventional educational curriculum with distinction in clinical service and training, enhanced by excellent research opportunities.
Our fellows obtain well rounded training in all aspects of brain injury to help nurture a generation of skilled academicians, clinicians, and researchers in the field of Brain Injury Medicine. Helping us achieve this goal is the support of one of the best rehabilitation facilities in the nation, Carolinas Rehabilitation. Fellows rotate in both inpatient and outpatient settings with physiatrists, as well as garner learning from Neuropsychologists, Neuropsychiatrists, Neurosurgeons, Trauma Surgeons, and therapists. We provide extensive inpatient exposure to the spectrum of brain injuries, with patients with mild to severe injuries, disorders of consciousness patients, as well as those from a high acuity level I Trauma Center. Additionally, our outpatient setting provides interaction with various community resources, including having a dedicated Community Resource specialist for patients with brain injuries.
With exceptional clinical training and research opportunities, our Brain Injury Medicine Fellowship program offers one the opportunity to cultivate their professional aspirations. Our fellows are well-prepared to enter any practice environment and have been very successful in both private practice as well as academic settings.
Beyond the fellowship academic training, our location provides the opportunity for fellows to enjoy their time outside of the hospital and maintain work-life balance. Charlotte is conveniently nestled between the beach and mountains, making for easy weekend getaways. Charlotte is a known as the "Queen City," which is full of charm with plenty of places to eat with award winning food, and unique attractions. There are many local museums, sporting events, and an overabundance of outdoor activities, including the US National Whitewater Center, to enjoy.
We feel our program is robust and well-rounded, and would like to sincerely thank you for your interest in our program and look forward to meeting with you soon!"
Sima A. Desai, MD
Program Director
Carolinas Rehabilitation Brain Injury Medicine Fellowship
Mission Statement
The mission of the Brain Injury Medicine Fellowship is to create compassionate and skilled physicians who provide exemplary service for patients with acquired brain injury and the community and to advance teaching skills. This mission aligns with the Atrium Health Incorporated mission to Improve Health, Elevate Hope, and Advance Healing.
Program Aims:
Our program vision is to create a stronger, more functional world through respect, teamwork, and commitment to excellence via the practice of high quality medicine, innovative research, and purposeful education. The fellowship aims to produce physicians who will 1) provide patient care that is compassionate, appropriate, and effective for the treatment of health problems and the promotion of health for individuals with acquired brain injury across multiple healthcare settings and lifespan, 2) demonstrate interpersonal and communication skills that result in the effective exchange of information and teaming with patients, their families, and professional associates 3) demonstrate a commitment to carrying out professional responsibilities and an adherence to ethical principles, 4) advance brain injury awareness and knowledge via various educational endeavors (i.e. research, teaching, leadership).
Brain Injury Fellowship Program
Carolinas Rehabilitation is offering a one-year ACGME fellowship in brain injury rehabilitation for a board-eligible/board-certified psychiatrist interested in developing further expertise in clinical management and research pursuits within this subspecialty. Carolinas Rehabilitation is a 192-bed, CARF-accredited rehabilitation hospital with 30 beds dedicated to brain injury. This fellowship allows for flexibility between clinical and research time and will be specifically designed to meet the candidate's interest.
Clinical opportunities include:
Inpatient consultations and outpatient evaluations
Neuropsychological evaluations
Patient management of traumatic brain injury (TBI) patients with a focus on treatment of active medical problems
Neuropharmacological trials
Procedural management of spasticity
The clinical experience also provides time for learning opportunities with neuroradiologists, neurosurgeons and trauma surgeons located at the Level I trauma center, Carolinas Medical Center, adjacent to Carolinas Rehabilitation. Brain injury research at Carolinas Rehabilitation includes opportunities to participate in clinical trials initiated at either Carolinas Rehabilitation or Carolinas Medical Center. Interested candidates must have excellent clinical and academic credentials and be very motivated to be challenged in a dynamic clinical/research environment.
Please view our brochure (PDF) for further information on the Brain Injury Rehabilitation fellowship.
We accept applications ONLY from participants in the National Resident Matching Program (NRMP) through the Electronic Residency Application Service (ERAS).

Please send cover letter and curriculum vitae to:
Sandra M. Watson
Residency Program Coordinator
Department of Physical Medicine and Rehabilitation
1100 Blythe Blvd.
Charlotte, NC 28203
Email: Sandra Watson
Meet the Faculty
Sima Desai, MD
Program Director, Brain Injury Fellowship Program

Dr. Sima Desai received her undergraduate degree from Emory University, subsequently received her masters degree in Pharmacology from Tulane University and her medical degree from Ross University School of Medicine.

She completed an Internal Medicine internship at Flushing Medical Center and residency in Physical Medicine and Rehabilitation at Tufts Medical Center where she served as Associate Chief Resident. Following residency, she completed a fellowship in Brain Injury Medicine at The University of Texas Health Science Center at Houston. Dr. Desai is a member of the American Academy of Physical Medicine and Rehabilitation, the Association of Academic Physiatrists and the North American Brain Injury Society. Her clinical interests include traumatic brain injury, stroke, neurorehabilitation and spasticity.

During her spare time, Dr. Desai enjoys spending time with family and friends, traveling, baking and trying new food in Charlotte.

Kelly Crawford, MD
Director, PM&R Residency Program
Brain Injury Medicine

Dr. Crawford received her undergraduate degrees in Psychology and Exercise and Sports Science, Kinesiology and subsequent Masters Degree in Pharmacology from Tulane University. She received her medical degree from Boonshoft School of Medicine at Wright State University. She completed her residency in Physical Medicine and Rehabilitation at the University of Cincinnati where she served as Chief Resident. Following her residency, she completed her fellowship training in Brain Injury Medicine (including traumatic brain injury and concussion management) at the University of Pittsburgh.

Dr. Crawford is board certified in the specialty of Physical Medicine & Rehabilitation and Brain Injury Medicine. She is an active member of the American Academy of Physical Medicine and Rehabilitation, the Association of Academic Physiatrists, and the North American Brain Injury Society. Her clinical interests include spasticity, concussion, and neurorehabilitation.

Dr. Crawford is a football enthusiast and enjoys cheering for the Ohio State Buckeyes and the Cincinnati Bengals. She also enjoys movies and spending time with her family and friends.

Tobias Tsai, MD
Medical Director, Pediatric Rehabilitation at Levine Children's Hospital

Dr. Tsai received his medical degree from Johns Hopkins University. He completed his internship at University of Rochester and his residency at Cincinnati Children's Hospital Medical Center.

Dr. Tsai is nationally recognized as a leader in Pediatric Physical Medicine & Rehabilitation, providing comprehensive services for children of all ages who have experienced a debilitating illness or injury. His clinical interests include cerebral palsy and brain injury. Dr. Tsai has presented at national and international medical conferences and is a member of many pediatric and rehabilitation medical organizations.

Dr. Tsai is married and has a son and daughter and enjoys spending time with family and friends.
Current Fellow
Kevin Estes, DO, Brain Injury Fellow

2022-2023

Hometown: Arlington, TX
Medical School: University of New England College of Osteopathic Medicine
Professional Interests: Brain Injury Medicine Neurorehabilitation, OMM
Personal Interests: Time with family, coaching my son's baseball teams, playing the piano/organ and conducting, building/construction projects

Why Carolinas Rehabilitation?
I chose Carolinas Rehabilitation for the broad spectrum of training in Brain Injury Medicine, from Disorders of Consciousness to Concussion. In addition, I was impressed by the warm and friendly environment of the program and the Charlotte area.
Past Fellows
Rachel Teranishi, MD, Brain Injury Fellow
2021-2022

Medical School: Georgetown University School of Medicine
Residency : Stanford Physical Medicine & Rehabilitation

"Hello from Carolinas Rehabilitation! I have been extremely thankful for my fellowship training at Atrium Health. One of the many strengths of the program is the vast exposure to a variety of patients - traumatic, non-traumatic, and anoxic brain injuries as well as stroke, disorders of consciousness, and other neurological disorders. I have also had the opportunity to provide care across the entire continuum of brain injury, from day one in the ICU during my consult rotation to several years later in the outpatient setting. It's also been a privilege to work with such an incredible team. Our brain injury attendings have completed their training in different institutions and each brings their own unique perspective to the world of brain injury medicine. I've also had the pleasure of working closely with our neuro-trained therapists, as well as an excellent group of nurses, case managers, social workers, respiratory therapists, rehab liaisons, and administrators. I am excited to apply everything I have learned at my new job, but I will sincerely miss Carolinas Rehabilitation!"




Wendy Contreras, MD, Brain Injury Fellow
2019-2020

Medical School: All Saints University School of Medicine, Dominica and St. James School of Medicine Anguilla
Residency: Beaumont Taylor Hospital, Taylor, Michigan

"Welcome to the brain injury medicine fellowship program here at Carolinas Rehabilitation! The fellowship program is ACGME-accredited and is conveniently located on the main campus of Atrium Health Charlotte, a Level I trauma center. As a fellow, I had exposure to a wide array of brain injury patients, both in the inpatient and outpatient settings. There were ample opportunities to pursue additional interests such as spasticity management, concussion management, neuropsychology, movement disorders, hydrocephalus clinic, neuroradiology and more. In addition, I was able to assist in management of patients enrolled in the emerging response program for the most severe types of TBI. I had the privilege of working with a highly-skilled and compassionate group of attending physicians. They did an excellent job teaching me the knowledge and skills I came here to develop, and I truly consider them lifelong mentors. It is also worth noting that the city itself is a great place to live. Charlotte is a diverse, multicultural city with plenty of things to do and a climate that allows for year-round outdoor activities.

I am grateful for my time at Carolinas Rehabilitation, and I whole-heartedly recommend completing your fellowship here! I feel confident heading into my career as a brain injury attending knowing that I have received the best possible training."
Kyle Aman, MD
Brain Injury Fellow
2017-2018

Medical School: American University of Antigua
Residency: Kingsbrook Jewish Medical Center

Megan Franz, MD
Brain Injury Fellow
2015-2016

Medical School: Case Western Reserve University School of Medicine
Residency: New York Presbyterian Hospital

Tara Chilakamarri, MD
Brain Injury Fellow
2013-2014

Medical School: University of Missouri
Residency: University of Cincinnati College of Medicine

Nisha M. Patel, MD
Brain Injury Fellow
2012-2013

Medical School: Akademia Medyczna, Lublin, Poland
Residency: Hofstra North-Shore Long Island Jewish School of Medicine

Gemayaret Alvarez-Gonzalez, MD
Brain Injury Fellow
2011-2012

Medical School: Ross University School of Medicine
Residency: Kingsbrook Jewish Medical Center

Andrew Dennison, MD
Brain Injury Fellow
2008-2009

Medical School: University of Pennsylvania
Residency: Baylor College of Medicine/University of Texas

Lori Grafton, MD
Brain Injury Fellow
2007-2008

Medical School: University of Rochester
Residency: Sinai Hospital in Baltimore

Monica Crump, MD
Brain Injury Fellow
2006-2007

Medical School: Medical College of Pennsylvania-Hahnemann School of Medicine
Residency: Baylor College of Medicine/ University of Texas