Soumya Adem, DO
As a physician I want to cultivate strong patient relationships based on trust, security, and compassion. I hope to create an environment that lends itself to patient centered care through open communication and clear, culturally competent, and understandable education. I wish to advocate and support my patients as they navigate their individual health journeys.

Taylar Albertini, MD
The physician I strive to be is not an authority figure who writes prescriptions but rather a coach and partner in healing. I commit to always see my patients in their fullest humanity and to listen to their stories and concerns. I hope to empower my patients to take charge of their health and in return I hope to learn from each encounter so I can continue to grow to be the physician my patients deserve.
Kia Bourdot, MD
My number one priority is to deliver high-quality, humanistic, inclusive care to patients of all ages and backgrounds. As your Family Physician, I will provide preventive screenings and chronic disease management based on the most current evidence available. As your healthcare ally in a continuously evolving and progressing world, I will educate you so you may make fully informed, autonomous healthcare decisions. I look forward to helping you reach and maintain your wellness, both physically and mentally, so you may enjoy life to the fullest with your friends, family, and loved ones. I am eager to serve your vibrant community!

Julian Butler, MD
I like to approach medicine and healthcare holistically, addressing social, mental and spiritual health needs as well as physical health needs, all of which can all impact a patient's physical wellbeing. I am also passionate about empowering patients with knowledge and understanding of their healthcare and treatment options. Decision making in healthcare is made by the physician and the patient and I wish to help patient's feel more in control of their bodies and health decision making.

Elim Chao, MD
It is my promise to treat my patients as I would want my loved ones to be treated. The Hippocratic Oath that I swore by stated many things but the statement most important to me was, "I will remember that there is art to medicine as well as science, and that warmth, sympathy, and understanding may outweigh the surgeon's knife or the chemist's drug."
Evan Hatch, MD
In creating a trusting relationship between doctor and patient, through open communication, active listening and establishing goals and needs, we will build the strong foundation necessary to support the world class, evidence based medical care that will ultimately go on to allow my patients to obtain the highest quality life possible.

Kwone U Ingram, MD
Physicians should be in the business of service. Our focus is on the individual, and providing patient focused and centered care. I am one part of a healthcare team, that includes all roles, levels of education, and specialties, committed to health equity. This goes beyond equality and acknowledges that different patients require personalized solutions. Changing the face of a Healthcare System that traditionally overlooks the systematically disadvantaged, my mission is to provide exceedingly outstanding healthcare catered to the individual regardless of race, color, faith, or gender. I strive to keep you, your family, and your community, healthy and happy.

Joshua Knighton, MD
Open and honest communication builds a healthy patient/provider relationship. Through ongoing teamwork, I hope to gain the trust and confidence of my patients to provide the best treatment and care. Health and well-being is a personal journey for everyone, and I strive to be a knowledgeable and kind guide through the process.

Brittany Lee, MD
A great physician should not only be proficient in the application of science, but must also be caring, humble, someone who practices the art of listening, makes a concerted effort to understand a patient's needs, and seeks to develop a collaborative approach to achieving a patient's health goals. I hope to build lasting relationships amongst the entire family, with foundations centered on trust and familiarity. I am committed to advocating for my patients and serving them not only in the hospital or clinic, but also within our community.

Emma O'Halloran Leach, MD, MBA
I believe that listening is the key to understanding my patients and how I can best help them. It is my priority to create a comfortable, accepting, and caring environment so that my patients can discuss anything with me. Above all, I strive to treat each person I meet with kindness, respect, and compassion.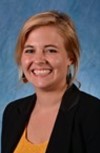 Shelby Stoneking, MD
My passion for the field of medicine is rooted in my love of lived experiences and the recognition that disease does not exist in a vacuum. Disease and wellness occur in the life of a person, a family, and a community. I will continually strive for my role in patient-provider relationships to be marked by sustained efforts to understand, represent, and enrich these real, lived experiences. I have a deep commitment to the patient-centered care model, whereby physicians and patients work together to find scientifically relevant and economically sustainable solutions that empower individuals and communities to lead healthier lives.

Alexander Voitkov, MD
Family Medicine is a special field to me because it represents much more than preventing illness and treating diseases. It is about developing lasting relationships with patients that are based upon trust and honesty. It is my duty as your primary care physician to guide you through your medical journey and ensure you feel supported as you navigate through the ever-changing field of medicine.