Obstetrics & Gynecology Residency Programs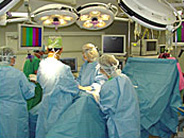 The second year of residency (PGY-2) is divided into: obstetrics, gynecology, ultrasound, gynecologic oncology, night float, and ambulatory care.
Obstetrics
Staff Gynecology
Gynecologic Oncology
Ambulatory Care
Night Float
Obstetrics
The PGY-2 resident has the primary responsibility for managing patients on labor and delivery. The resident will learn to treat a variety of problems related to labor and is the primary surgeon for Caesarean deliveries. Supervision is by upper level residents and faculty members.
Staff Gynecology

During this rotation, the physician acquires first-hand experience with the many minor surgical procedures related to our specialty. Additionally, he/she serves as first assistant during major gynecologic operative procedures. The PGY-2 resident will learn the principles of evaluating and preparing patients for surgery.
Ultrasound
This rotation in advanced ultrasound and genetics will include in-depth experience in ultrasound scanning in obstetrics and gynecology, human genetics, embryology, and teratology. The resident will have hands-on ultrasound experience acquiring ultrasound images and discussing how fetal anomalies differ from normal in pertinent anatomic views.
Gynecologic Oncology
This rotation exposes the resident to an in-depth experience in the management of gynecologic malignancies. Residents are exposed to all current diagnostic and therapeutic modalities in the treatment of gynecologic cancers, in both the inpatient and outpatient settings. Opportunities are available to participate in surgical procedures as a first assistant.
Ambulatory Care
Exposure to all aspects of caring for women in obstetrics and gynecology clinics forms the basis of this rotation. The resident will be assigned to evaluate women with pregnancy complications including diabetes, hypertensive disease, thyroid disorders and abnormal fetal growth. Women with a variety of gynecologic problems will be assigned to this resident under direct supervision of an attending physician. The ambulatory rotations also include exposure to abdominal/vaginal ultrasound in both obstetrics and gynecology patients. An ultrasound curriculum has been developed to assist in learning the principles of ultrasonography. Dedicated time in clinical genetics allows the resident to learning the principles of perinatal genetic counseling.
Night Float
Weekday night call is a rotation beginning at 5:30 p.m. and ends at 7 a.m., Sunday - Thursday nights. Each weekend is free until Sunday evening.