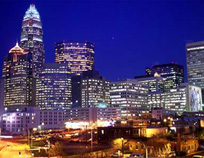 The Department of Obstetrics and Gynecology at Carolinas Medical Center offers an accredited four-year educational training program designed to impart the breadth of experience required for certification by the American Board of Obstetrics and Gynecology.
Graduates of this program will be equally prepared to enter general obstetrics and gynecology practice or pursue further training in a subspecialty fellowship.
Over 30,000 outpatient visits to CMC OB/GYN related clinics
About 3,500 staff deliveries
3,900 inpatient gynecologic procedures
4,200 outpatient gynecologic procedures
The program is approved for six residents per year and divided into four years of graduated responsibility. The PGY-1 year consists of a variety of service rotations as well as extensive exposure to obstetrics. The remaining three years emphasize the specialty of obstetrics and gynecology and the recognized subspecialties.
Ngina Connors, MD
Department Chair

Amy Boardman, MD
Residency Program Director