PGY 4
Obstetrics & Gynecology Residency Program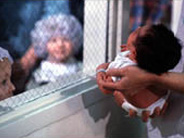 The fourth year of residency (PGY-4) is divided into: Obstetrics, Gynecologic Oncology, Minimally Invasive Gynecologic Surgery, Staff Gynecology, Night Float, Ambulatory Care and Elective
Obstetrics
Gynecologic Oncology
Minimally Invasive Gynecologic Surgery
Night Float
Staff Gynecology
Ambulatory Care
Elective
Continuity Clinics
Breakdown of rotations
As the senior resident on the obstetric services, the resident will oversee both normal and high-risk obstetric management. Extensive experience is available in medical and surgical complications of pregnancy.
This rotation is similar to the PGY-1 through 3 year rotations, with the exception of a graduated increase in the amount of responsibility and covering more complicated oncologic procedures as the first assist with the attending
The resident will assist in the care of patients with a multitude of problems related to gynecologic malignancies. Surgery will be performed under direct supervision of the gynecologic oncology staff.
Nigh float consists of one resident from each year. The PGY-4 resident's primary role is to oversee all other residents. Weekday night call is a rotation beginning at 5:30 p.m. and ends at 7 a.m., Sunday - Thursday nights. Each weekend is free until Sunday evening.
The senior resident is responsible for all operative and non-operative aspects of inpatient care on this service and oversees the PGY-2 resident. Training includes advanced laparoscopic surgery, laparotomy, hysteroscopy, cystoscopy, and vaginal hysterectomy. Extensive experience in the management of outpatient gynecologic problems is obtained with direct supervision of the gynecology faculty.
The resident will refine their management of OB/GYN issues during this rotation. This resident will be responsible for managing resident staffing of outpatient clinics and serve as a learning resource for junior residents.
The resident can develop a one-month rotation to enhance their education. Elective rotations have included pathology, vulvar dermatology, menopausal medicine and breast pathology/radiology. Rotations off-site are allowed.
The resident has their own continuity clinic and patients. Continuity clinics are half-day clinics during every rotation except OB Days and OB Nights.
Fall: OB Days, OB Nights, MIGS, GYN Oncology, Ambulatory, Gynecology
Spring: OB Days, OB Nights, MIGS, GYN Oncology, Gynecology, Elective