Rachel Seymour, PhD
Vice Chair for Research
Professor
Department of Orthopaedic Surgery
Atrium Health Musculoskeletal Institute
Rachel B. Seymour, PhD, is the Professor and Vice Chair for Research for the Department of Orthopaedic Surgery and the Atrium Health Musculoskeletal Institute. Dr. Seymour has over 20 years of experience in clinical research, including multi-center trials and consortium development and management and has received funding from NIH, CDC and DoD to conduct efficacy and effectiveness studies and projects focused on the development, testing and translation of evidence-based interventions. Recently, she served as Principal Investigator, with Dr. Hsu, on CDC-funded projects to implement clinical decision support in the EMR to address abuse, misuse and diversion of prescription narcotics. Dr. Seymour manages the top enrolling site for the Major Extremity Trauma Research Consortium at Carolinas Medical Center and serves as co-investigator on several of the METRC projects. This network of researchers facilitates collaborations across disciplines, facilities and scientific methods.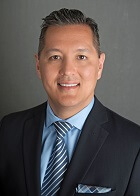 Joseph Hsu, MD
Vice Chair for Quality
Department of Orthopaedic Surgery
Professor, Orthopaedic Trauma
Director, Limb Lengthening and Deformity Service
Medical Director, Global Healthcare Services
Atrium Health Musculoskeletal Institute
Dr. Hsu is Vice Chair for Quality and a Professor in the Department of Orthopaedic Surgery and Atrium Health Musculoskeletal Institute at Atrium Health. Dr. Hsu has over ten years of experience as an orthopaedic traumatologist. He completed his bachelor's degree at West Point. He completed medical school and residency at Tulane University School of Medicine as well as a fellowship in trauma.
He has clinical expertise in surgical interventions, limb salvage, orthopaedic infections and perioperative pain management. Dr. Hsu's current research interests are in lower extremity disability, multimodal pain management strategies and decision support guided clinical pathways. He has many peer-reviewed publications in the field of orthopaedic trauma, opioid prescribing safety and clinical decision support, and he has experience working within clinical consortiums at a national and international level. Dr. Hsu has extensive experience in the military and civilian organizations with creating and implementing clinical practice guidelines. He has also participated in developing guidelines for the management of compartment syndrome, pelvis fractures and irrigation of open injuries for the Joint Theater Trauma System and is currently involved in guideline development for the American Academy of Orthopaedic Surgeons and Orthopaedic Trauma Association. He is currently Principal Investigator, with Dr. Seymour, on CDC-funded system wide computerized decision support intervention related to prescription opioids and benzodiazepines, PRIMUM.