PM&R Medical Student Clerkship at Carolinas Rehabilitation
Carolinas Rehabilitation is one of the premier rehabilitation institutes in the nation and provides tertiary-referral acute rehabilitation for adults and children. The Department of Physical Medicine and Rehabilitation (PM&R) offers a 4-week rotation courses designed for fourth year medical students seeking comprehensive exposure to PM&R as follows:
4AIM 520 – 4-week rotation consisting of inpatient and outpatient educational experiences in General Rehabilitation with each week spent with brain injury, spinal cord injury, strokes and pediatrics rotation.
The following four-week courses are offered after completing the required general PM&R rotation:
4AIM 521 – Brain Injury
4AIM 522 – Pediatrics
4AIM 523 – Spinal Cord Injury.
All applications are processed through Visiting Student Learning Opportunities (VSLO) website. The Visiting Student Learning Opportunities (VSLO) is an AAMC application designed specifically for students enrolled in their final year of medical schools to apply for senior electives at US medical schools and teaching hospitals. The course catalog is located under Wake Forest School of Medicine - Wake Forest - Charlotte.
Application Requirements - Prospective medical students must secure access from home school or medical institution to log into VSLO. Application documents below must be submitted through VSLO only:
CV
Complete Transcript
Statement of Interest in PM&R
Housing - Invited in-state applicants are eligible for AHEC housing. Prospective students must seek private sources for housing if all spaces are filled or if visiting from an out-of-state institution.
International School - Due to limited space and capacity, we are unable to accept applications from students of international medical schools or other non-LCME accredited medical schools.
Interview for Residency - Acceptance to a 4th year rotation does not guarantee an interview for residency.
For questions regarding this opportunity, please contact:
Lorena Ostrea
Medical Student Coordinator
Department of Physical Medicine and Rehabilitation
1100 Blythe Blvd., Charlotte, NC 28203
Email: Lorena Ostrea
Medical Student Scholarship Program
At Atrium Health, we are driven by our mission to improve health, elevate hope, and advance healing "for all". By creating an environment where differences are valued and inclusion is a way of life, we offer the opportunity for students to avail our recently established 4th Year Medical Student Rotation Scholarship (maximum $2,000). This scholarship is designed for underrepresented students in medicine to help offset the costs associated with rotating away from their home institution. Students may also be invited to participate in a variety of extra-curricular events designed to support underrepresented students while on an away rotation at Atrium Health.
Eligibility: Candidates must be a fourth-year medical student in good standing with a competitive application for Physical Medicine and Rehabilitation residency. Candidates must come from a background that is underrepresented in physical medicine and rehabilitation (including women and any student from a background underrepresented in the medical profession).
Expectations: Scholarship recipients must complete a 4-week rotation with Physical Medicine and Rehabilitation at Carolinas Rehabilitation.
How to apply: After confirmed acceptance for a rotation at Physical Medicine and Rehabilitation through VSLO under the Wake Forest University School of Medicine, email Lorena Ostrea with your CV, a statement on how your background is underrepresented in Physical Medicine and Rehabilitation and a brief note of interest in Atrium's PM&R Residency Program. Complete your scholarship application by answering the questions on this link: AH MD-Y4 URIM Scholarship Application
Medical Student Scholarship application is optional and is not required to be accepted for a 4th year rotation.
Medical Student Research Mentorship Program
The Department of Physical Medicine and Rehabilitation at Carolinas Rehabilitation invites motivated medical students to participate and experience its virtual medical student research mentorship program. Student Mentees in this program will be paired with residents and faculty mentors to collaborate on a case report that will be presented at the Association of Academic Physiatrist (AAP) Annual Meeting. Regular virtual sessions are scheduled to impart knowledge on how to write case reports for submission to national conference. The program will not lead to course credit, but a certificate of completion will be given.
Interested applicants must complete the application below by May 12, 2023 (11:59 p.m. EST):
Application for CR-PM&R Medical Student Mentorship Program
Requirements:
1. All participants will need to complete Collaborative Institutional Training (CITI) Program training to maintain compliance with the Atrium Health Institutional Review Board (IRB). *** CITI Program training is offered at most educational institutions.
2. Once accepted, successful applicants must fulfill the following expectations of the program:
Participate in all educational sessions
Submit a case report to AAP and,
If the abstract is accepted:
- Create the poster with the Carolinas Rehabilitation template
- Attend the conference where the abstract was submitted
3. Carolinas Rehabilitation will cover the cost of the poster printing, but the cost of conference attendance will be the responsibility of the applicant.
Additional Information:
Accepted students will be notified by email on or before June 15, 2023. Please contact Lorena Ostrea at Lorena.Ostrea@AtriumHealth.org for any questions.
Testimonials from Medical Student Mentees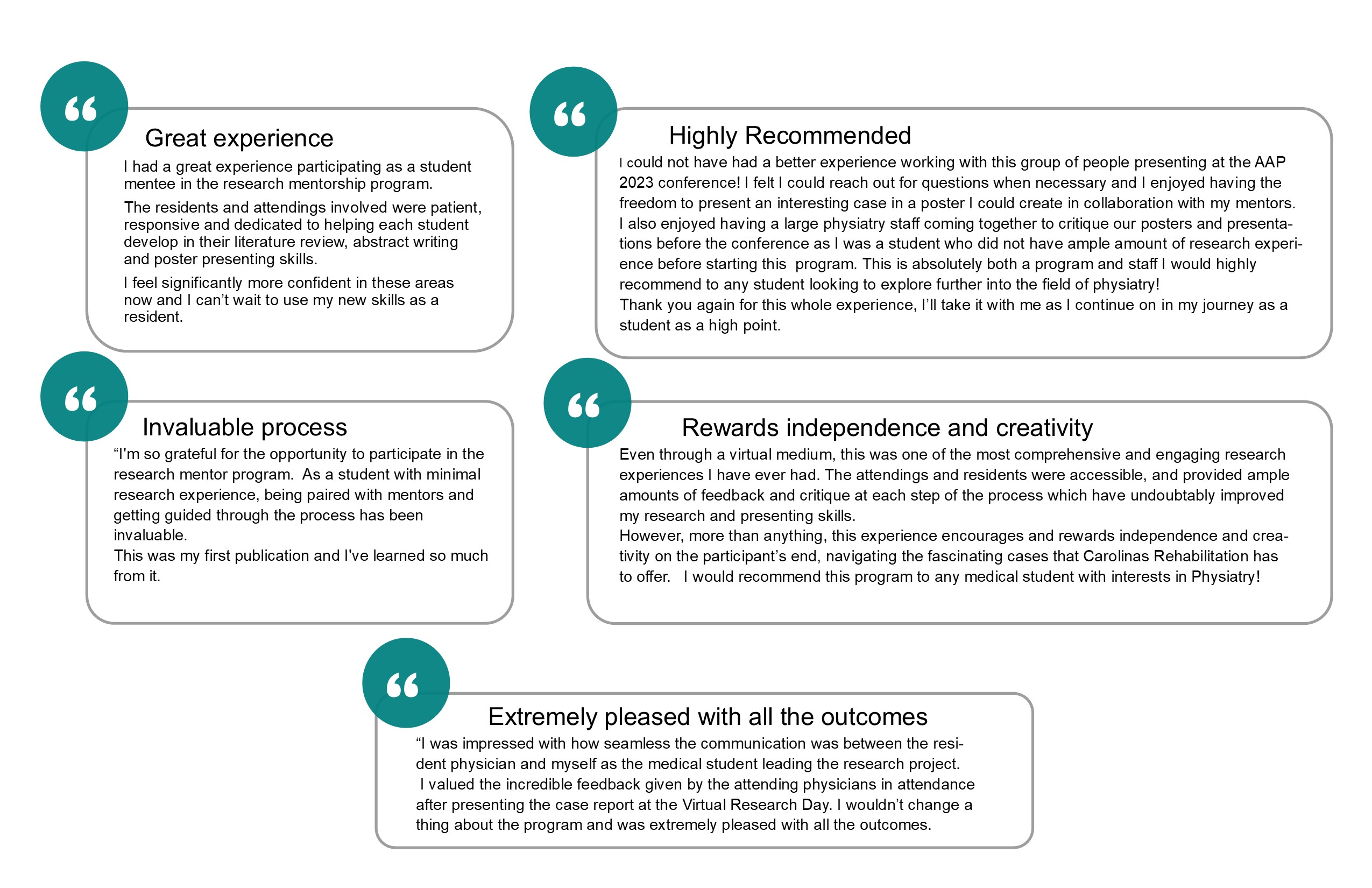 Medical Students AAP Research Projects for 2023
Virtual Presentation
Actual Poster Presentation at the AAP
Brain Injury Patient Using Brivaracetam
by Katrina Brown - MS4 Burell College of Osteopathic Medicine
Faculty Advisor Dr. Sima Desai with Student Mentee Katrina
*** Resident Mentor - Morgan Moore, MD






Buerger's Disease Complications for Consideration: Poor Wound Healing Leading to Amputation by Noah Crees - MS4 Wake Forest University
Resident Mentor Dr. Andrew John with Student Mentee Noah
*** Faculty Advisor - Terrence Pugh, MD



Wheelchair Dependent to Golfing 18 Holes: Drastic Functional Improvement After Delayed Cranioplasty in Syndrome of Trephined by Alena Sidwell -MS4 University of Toledo College of Medicine
Student Mentee Alena with Resident Mentor Dr. Mackenzie Gillund
***Faculty Advisor Kelly Crawford, MD and Nicole Rup, MD



Peroneal Nerve Injury Secondary to Peloton Use by Yacoub Khatab MS4 - Texas Tech Health Sciences Center Foster School of Medicine
Resident Mentor Dr. Robert Theiss with Student Mentee Yacoub
*** Faculty Advisor Puneet Aggarwal, MD



Athletic Injury in a Non-Athlete: Obturator Internus Strain Associated with Tonic-Clonic Seizure in Nonverbal Child with Tetraplegia by Siddhant Srivastava OMS-IV - Ohio University Heritage College of Osteopathic Medicine
Student Mentee Siddhant Srivastava
*** Faculty Advisor Tobias Tsai, MD | Resident Mentor Megan Kennelly, MD

Complete Tear of the Proximal Extensor Carpi Radialis Longus: A Rare Case of Non-Operative Recovery
By William Schultze, OMS-IV - Michigan State College of Osteopathic Medicine


Faculty Advisor: Kelly Crawford, MD | Resident Mentor: Niel Andrews, MD







Bilateral Vertebral Arterial Dissection: A Rare Complication of Cervical Manipulation
By Monica Quinn OMS-IV - Arkansas College of Osteopathic Medicine


Faculty Advisor: Kelly Crawford, MD | Resident Mentor: Ryan Mathern, MD