**Please Note: Interviews for 2022-2023 training year will be VIRTUAL**
The general surgery residency program is a five-year clinical program. Six categorical and one non-designated preliminary PGY-1 residents are matched through the National Resident Matching Program (NRMP) annually.
Applications are accepted through the Electronic Residency Application Service (ERAS). Foreign medical graduates must hold a valid Educational Commission for Foreign Medical Graduates (ECFMG) certificate and be eligible to obtain a North Carolina medical license at the time of application.
General surgery residency applicants must have passed Step 1 of the United States Medical Licensing Examination (USMLE) to be eligible for entry into our program. Special considerations are made due to current COVID-19 situations that have limited testing for medical students.
Applicants are encouraged to submit their full application early as interview dates fill up quickly. Applications are considered complete when the following documents have been received by the program.
Common Application Form
Curriculum Vitae
Personal Statement
Medical School Transcript
Dean's Letter
3 Letters of Recommendation from Faculty who know you best (Chair letter not required)
Photo
United States Medical Licensing Examination (USMLE) Transcripts (Step 1 is required prior to extending an interview offer)
ECFMG Status Report (foreign medical graduates only)
Your completed electronic application must be available to us no later than October 1, 2021 for the 2022-2023 training year.
Selection of Applicants for Interview
Selection for interviews is based on an evaluation of educational achievement, communication skills, research experience, extracurricular activities, and intangible qualities such as leadership, professionalism, attitude and commitment to a career in surgery. Each year we receive over 1,500 applications and interview between 80 and 90 candidates. Invitations are sent through ERAS and interviews take place in November, December and January as detailed below.
Virtual Interview Information & Dates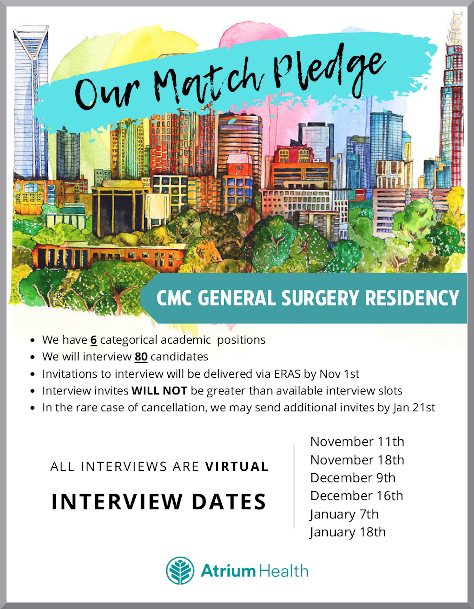 Pre-Interview Social with Residents
This is a very laid back and relaxing virtual event which occurs the evening prior to your interview date. Applicants will visit three "rooms" and take advantage of the opportunity to meet some of our residents, get a "feel" of the dynamics and camaraderie among the residents, as well as learn more about our program and the Queen City! This part of the interview experience has become quite popular among applicants and often mentioned by our Matches as a key factor in determining where they ranked CMC.
Date: Evening prior to your interview
Time: 7 to 9 p.m.
Interview Day
This is your time to SHINE! Each applicant will interview with our Program Director plus three faculty members. Applicants will also get to chat with our residents, especially our current first years. First years are an incredibly valuable resource for candidates during the interview process. They bring the calm and remind everyone to relax, be yourself and just breathe.
| | |
| --- | --- |
| 6:45 a.m. | Log In with Program Administrator |
| 7:00 a.m. | Program Director's Welcome |
| 8:00 a.m. | A Message from Our Chairman |
| 9:00 a.m. | Interviews |
| 11:45 a.m. | Wrap Up with Program Director/Administrator |
How to Apply
Visit our GME page for information on salary and benefits.
Applications for the next academic year are accepted when the ERAS post office opens September 1st.
The general surgery application deadline is October 1, 2021.

Read a message from the program director.
To learn more, contact us: