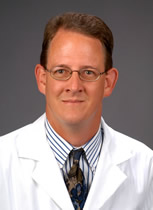 Kevin E. Burroughs, MD, Director
Dr. Burroughs is the Director of the Sports Medicine Fellowship and has a CAQ in Sports Medicine. Dr. Burroughs graduated from Greensboro College, receiving a B.S. in Biology. He then completed medical school at the University of North Carolina at Chapel Hill, and went on to complete a residency in Family Medicine and a fellowship in Sports Medicine through the Moses Cone Health System in Greensboro, NC.
Dr. Burroughs is active in medical education and has published more than 50 articles and book chapters on both family medicine and sports medicine topics as well as given numerous presentations at the local, regional and national levels. He is the team physician at JM Robinson High School, and at Catawba College and is a consultant for athletes at all schools in Cabarrus and the surrounding counties. He is very active in the American Medical Society for Sports Medicine, and served two terms on the Board of Directors. He is a long-time member of the North Carolinas High School Athletic Association Sports Medicine Advisory Board.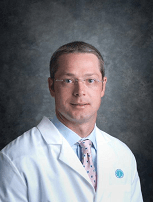 Brent H. Messick, MD, Assistant Director
Brent H. Messick, MD, joined Cabarrus Family Medicine-Mt. Pleasant in 2010. Dr. Messick, a native of Winston-Salem, NC attended Appalachian State University where he received a B.A. in psychology and english. He attended medical school at the American University of the Caribbean for Medical School and then went on to complete his residency in family medicine at Cabarrus Family Medicine. After residency, he then went on to complete his sports medicine fellowship with Cabarrus Family Medicine.
Dr. Messick is board certified in family medicine and sports medicine. He has published several articles on the topic of sports medicine including little leaguer's elbow, gymnasts' wrist and spondyloarthopathies. He has served as medical team physician for the professional Carolina Speed Indoor Football team, Catawba College, Marine Core Marathon, a USA volleyball tournament as well as many other high school teams and tournaments.
Dr. Messick's academic interests include family medical care of the child and adult, sports medicine, concussions and procedures. Dr. Messick enjoys weight lifting, jogging, tennis and mountain biking.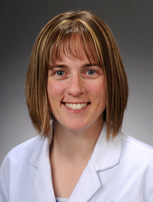 Katherine M. Foster, MD, Faculty
Dr. Walker attended Cornell University in Ithaca, NY where she received a B.S. in biology. She attended medical school at Upstate Medical University in Syracuse, NY then completed a residency in Family Medicine at St. Joseph's Hospital in Syracuse. In 2005 she completed a Primary Care Sports Medicine Fellowship through Moses Cone Health System.
Dr. Walker provides sports medicine care at the Sports Medicine and Injury Center and at the Mt. Pleasant office. She provides Family Medicine care at the Harrisburg office. She also teaches resident physicians from the Cabarrus Family Medicine Residency Program.
She was a two-time NCAA Division I All-American in track and field and was named first-team All-Ivy three times in cross-country during her career at Cornell.