The sports medicine fellow's education occurs through a variety of clinical settings, including the Sports Medicine and Injury Care, orthopedic clinics, training room experiences, physical therapy, surgery, foot and ankle surgery, hand surgery, primary care and event coverage. Our sports medicine clinic offers onsite digital X-ray, computerized medical records, casting, orthotics and musculoskeletal ultrasound. Our faculty helps provide sports coverage for all 8 high schools in Cabarrus County.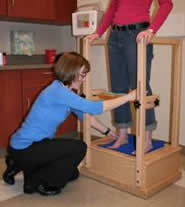 Catawba College is the primary collegiate experience. Catawba is an NCAA Division II school with approximately 1,400 students and approximately 500 student athletes. The college participates in the South Atlantic conference and offers 22 NCAA Division II athletic teams including baseball, basketball, football, golf and soccer, to name a few. The fellow will have teaching opportunities in the athletic training program both in class and in the training room environment. Additional coverage opportunities include the NC State High School Wrestling Tournament, running events and soccer tournaments, as well as other major events, such as the Marine Corps Marathon in Washington through affiliation with other sports medicine programs.
Additional professional development is encouraged in scholarship. We expect fellows to develop and complete a scholarly project and plan to publish and/or present their findings at a state or national meeting. Additionally, the fellow is expected to write a review article or case report for publication. Mentoring in research and scholarship is available on site from our faculty. The goal of this requirement is to allow development of skills in writing, critical literature analysis and basic research. Teaching is also an emphasized component of the fellowship experience. Opportunities for this will be ongoing throughout the year and will include lectures at the high school, college and medical student/resident level. The fellow also regularly lectures to the athletic trainers who work as part of our healthcare system.
The fellow has extensive game and sports coverage so that during the course of the year he/she attends between 50 and 100 athletic contests. The Sports Medicine Fellowship experience will provide a balanced experience of clinical care in family practice, non-operative sports medicine, orthopedics and preventive medicine. The fellow will develop academic skills, which will enable them to become teachers for their patients and community, as well as prepare them for opportunities in academic medicine. The fellow will garner these additional skills while maintaining exceptional skills as a family physician.
Schedule Template
| Monday | Tuesday | Wednesday | Thursday | Friday | Saturday |
| --- | --- | --- | --- | --- | --- |
| Sports Medicine and Injury Center (SMIC) | Atrium Health Piedmont Orthopedic Specialists-Concord | Residency Office Didactics/Research | Atrium Health Piedmont Orthopedic Specialists-Concord | Sports Medicine and Injury Center (SMIC) | |
| Sports Medicine and Injury Center (SMIC) | Sports Medicine and Injury Center (SMIC) | Atrium Health Piedmont Orthopedic Specialists- Concord | Sports Medicine and Injury Center (SMIC) | Cabarrus Family Medicine | Catawba College Game (Sept-Nov) |
| | | Catawba Training Room | JV Football Home Games | Varsity Football Games | |