Program Description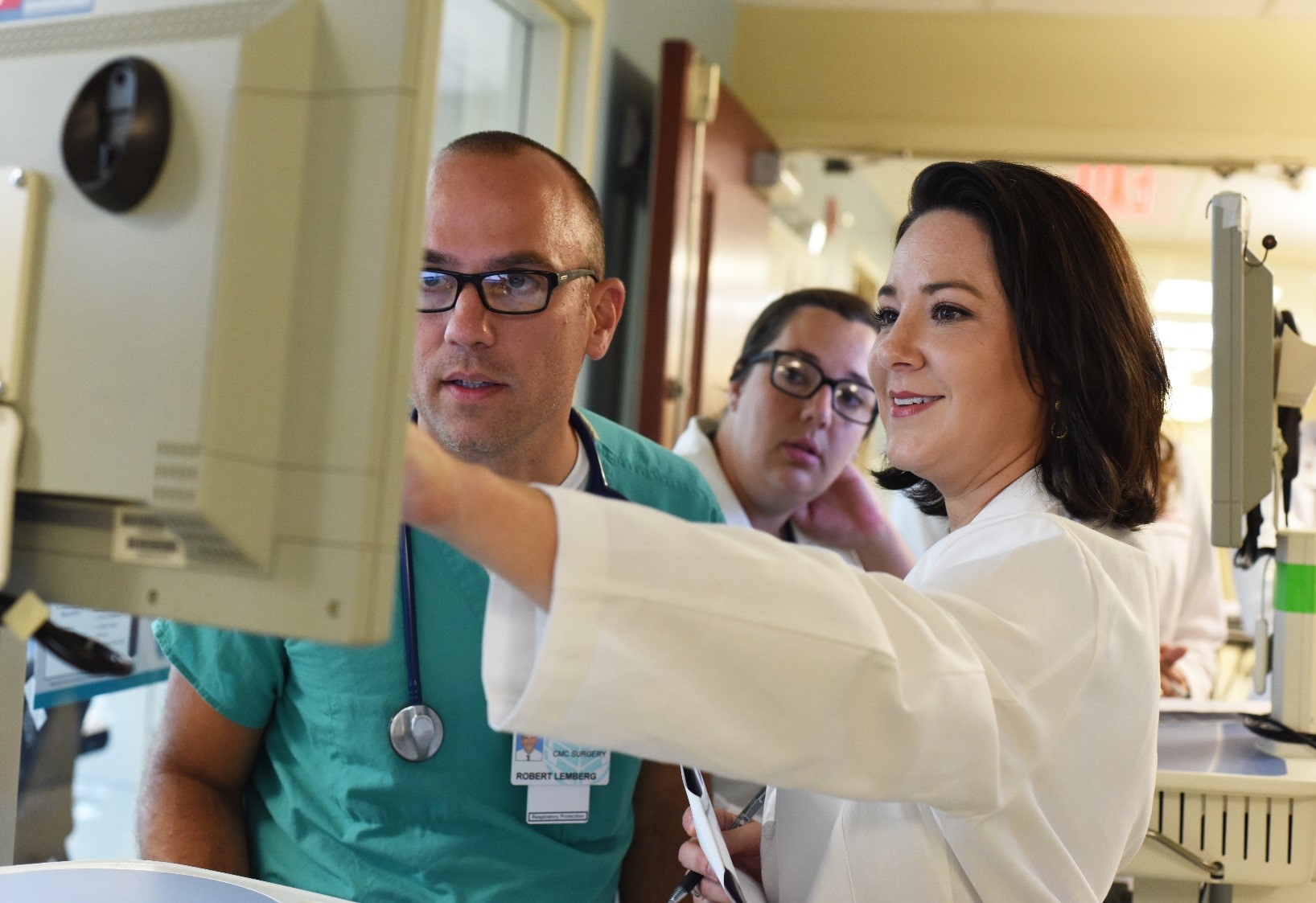 The Division of Acute Care Surgery at Atrium Health's Carolinas Medical Center offers fellowship training in surgical critical care, acute care surgery and trauma. We offer the three following positions.
One-Year, ACGME Approved, Surgical Critical Care Fellowship
This fellowship provides a wealth of experience in critical care medicine to train future academic surgeons with specialty interests in trauma and critical care. A dynamic core faculty is comprised of twelve trauma attendings with board certification in Surgical Critical Care, all dedicated to teaching and mentoring. Fellows will be exposed to a wide variety and high volume of critically ill surgical and trauma patients, as well as perform many bedside ICU procedures including tracheostomy, PEG, IVC filter, bronchoscopy, critical care ultrasound and invasive line placement. At CMC, we strive to deliver excellent critical care with an evidence based, multidisciplinary approach. Our fellowship encourages active participation in outcomes research, quality improvement initiatives, state-of-the-art simulation training and teaching, and guideline development. A structured weekly didactic program is in place that fosters development of core critical care knowledge and delivery of that knowledge to junior learners. Exposure to ICU administration and trauma program management are integral to fellowship training. The SCC fellow rotations include:
Surgical Critical Care
This is a consult service providing comprehensive critical care to surgical patients including those undergoing hepatobiliary surgery, transplant surgery, emergency general surgery, vascular surgery, complex head and neck surgery, and surgical oncology procedures. This service supports over 150 consults per month, providing a broad range of pathology and acuity.
Trauma Intensive Care Unit
This service admits all critically ill injured patients, over 1600 in 2016. This dynamic service coordinates the care of these injured patients with other specialty services such as orthopedic surgery, neurosurgery, vascular surgery and cardiothoracic surgery. Fellows are routinely involved in trauma resuscitation and operative management.
Medical Intensive Care Unit
This service line is staffed by medical intensivists and provides an opportunity for our fellows to expand their exposure to medical critical illness. Additionally, fellows have an opportunity to work with the ECMO team while on this rotation.
Emergency Medicine Ultrasound
Our fellows rotate in the emergency department where they are provided with direct proctoring on a variety of ultrasound techniques, including focused assessment of sonography for trauma, critical care ultrasound, thoracic ultrasound and ultrasound procedural guidance. Weekly image review and extensive hands on learning with direct feedback provide a comprehensive exposure to point-of-care ultrasound
Available electives
Cardiac Critical Care, Cardiovascular Recovery Unit, Nephrology, Pediatric Intensive Care Unit, Burns, Echocardiography
Two-Year Acute Care Surgery Fellowship
The two-year fellowship begins with the ACGME approved Surgical Critical Care Fellowship followed by an AAST certified Acute Care Surgery Fellowship. The Acute Care Surgery Fellowship Program at Atrium Health's Carolinas Medical Center provides a comprehensive multidisciplinary experience. The fellowship is modeled to address specific needs of the fellow. Rotations include trauma, emergency general surgery, hepatobiliary, vascular surgery and cardiothoracic surgery, with opportunities for advanced minimally invasive surgery experience. Research opportunities are available, primarily through clinical, database and industry trials. Fellows are encouraged but not mandated to participate. Travel for podium presentations is supported during the academic year. Mentorship is available for the fellow through a faculty that is widely published and grant-supported. The didactic educational experience is diverse. There is an active conference and lecture schedule, and the fellow is an active participant with teaching of residents, advance care practitioners, medical students, respiratory therapists and nurses. The acute care surgery fellow is supported for ATOM, ASSET, Critical Care Ultrasonography Course and the Hepatobiliary Fellows Conference and Workshop. The program is committed to the successful training of acute care surgeons to be clinically adept, academically prepared and administratively active.
One- or Two-Year Trauma Fellowship
A one-year Trauma Fellowship that can be combined with the ACGME approved Surgical Critical Care Fellowship. The purpose of our trauma fellowship is to train future trauma center medical directors. Our program is supported by 12 full-time critical care boarded trauma surgeons. The experience includes direct involvement in administrative, clinical and research activities. Administrative duties will include involvement with both the adult and pediatric components of our trauma center, MTAC and the North Carolina Committee on Trauma. The clinical experience will include operative and critical care of complex trauma. Our research program is active in clinical, basic science and industry projects. The fellow is supported for ATOM, ASSET and the Trauma Center Association of America's Trauma Medical Director introductory course.
Application Information
Qualifications:
PGY-4 or PGY-6 having completed at least three years of an ACGME-approved general surgery program.
How to apply:
Please visit SAFAS to begin the fellowship application process. Further inquiries can be directed to the Program Director at Rita.Brintzenhoff@AtriumHealth.org or Fellowship Coordinator Dominique.Covington@AtriumHealth.org.
About Atrium Health's Carolinas Medical Center
Facility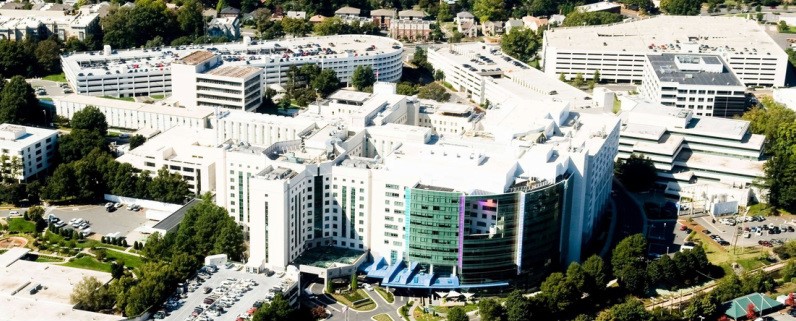 Carolinas Medical Center (CMC) is the flagship hospital for the Atrium Health, which manages over 50 hospitals. CMC, located in Charlotte, NC, is an ACS-verified level-1 adult and pediatric trauma center, with 874 beds, 141 ICU beds and 74 operating rooms. The F. H. Sammy Ross Trauma Center is the hub of the region's trauma system (Metrolina Trauma Advisory Committee [MTAC]) that covers 15 counties, 22 hospitals and EMS programs including four state-designated level-3 trauma centers. The F. H. Sammy Ross Trauma Center supports over 5000 trauma activations and admissions annually, with over 1600 ICU admissions/year. As a tertiary referral center to a large hospital system, CMC provides an expansive training experience with high volume and broad variety of pathology.
Contact Us
For further information, please contact:
Dominique Covington
Medical Education Coordinator—SCC & ACS Fellowship Program
1000 Blythe Blvd.
MEB Suite 601
Charlotte, NC 28203
Phone: 704-355-3509
Email: Dominique Covington