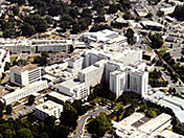 We appreciate your interest in our program here at Carolinas Medical Center in Charlotte, N.C. In an effort to be more eco-friendly, our program no longer mails out applications; all application materials are instead posted online.
We accept applications through ERAS; check the ERAS sites for program application dates and procedures. Candidates must have completed general surgery in an ACGME-accredited program in the United States or Canada. Three letters of recommendation are required, one of which should be from a Department Chair physician, and all ABSITE scores from general surgery training. Please contact your school for more information on the ERAS program.
Thank you for your interest in the Vascular Surgery Residency Program at Carolinas Medical Center. If you have any questions or concerns, please call Cameron Davis, Program Coordinator, at 704-355-4823 or e-mail.
Resources: