We are no longer accepting applications for the 2021 - 22 fellowship year.
General
The Center for Prehospital Medicine's EMS Fellowship Program at Carolinas Medical Center began in 1991. Effective July 1, 2013, the fellowship was given initial accreditation status by the Accreditation Council for Graduate Medical Education (ACGME). The fellowship is affiliated with the Mecklenburg EMS Agency (Medic) in the City of Charlotte and Mecklenburg County. The first fellow graduated in 1996; as of 2017, 27 fellows have successfully completed the program. One position is offered each year to qualified candidates who must be residency-trained and board certified/eligible in Emergency Medicine from an ACGME accredited program.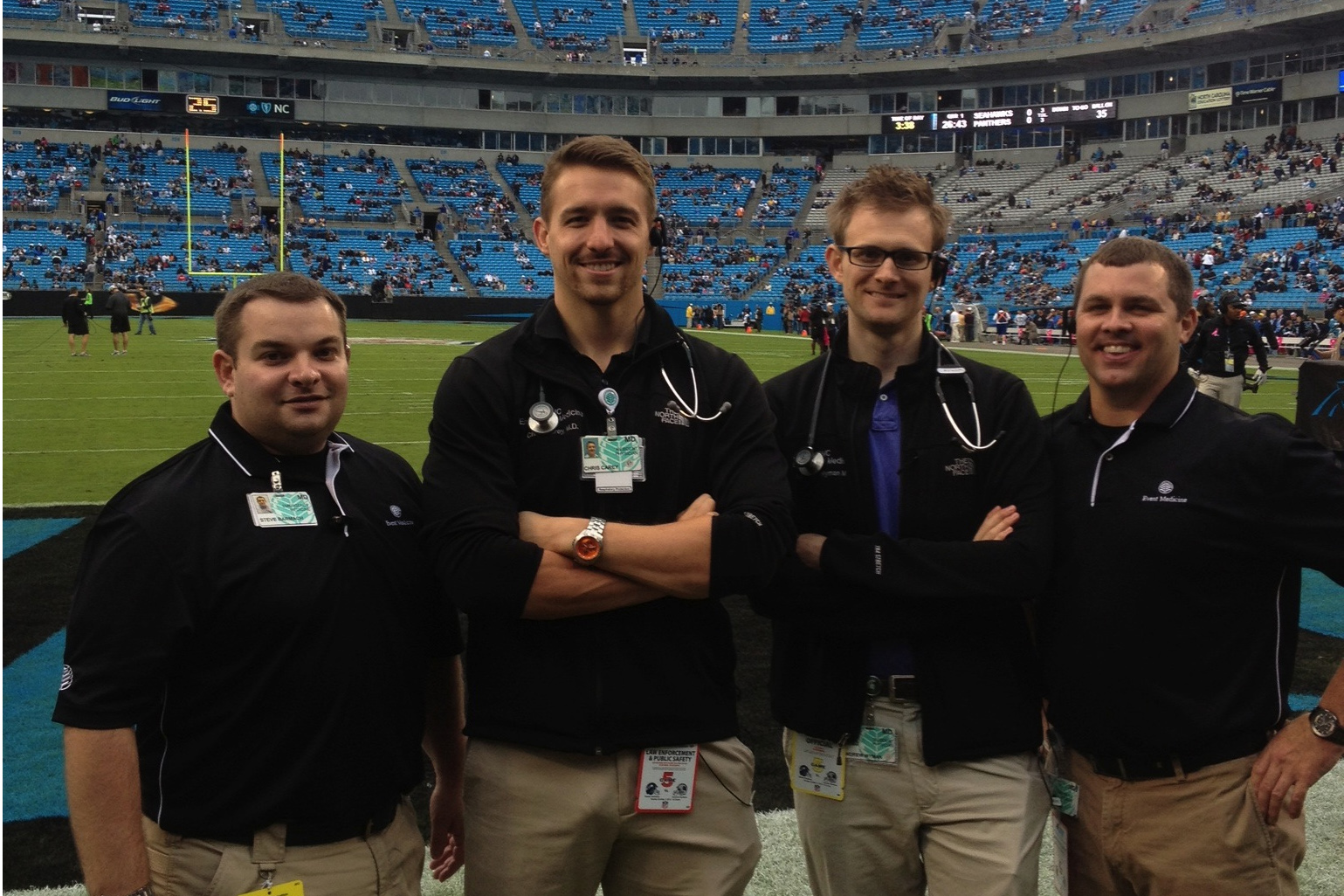 Reference materials on this page:
Experience and Opportunities
The EMS Fellow serves as Assistant Medical Director for Medic and the affiliated first responder agencies, and will be responsible for performing all duties required by the medical director. In addition, the Fellow will serve as Emergency Medicine junior faculty in the Department of Emergency Medicine. Participation in all activities conducted by the Center for Prehospital Medicine (CPM) is expected, including assisting with primary paramedic education through a consortium agreement between CPM and Central Piedmont Community College (CPCC) in uptown Charlotte. Additionally, the EMS Fellow will take part in all Event Medicine Team mass gathering events, medical coverage and hospital disaster preparedness.
The unique design of this program and the EMS system affords complete medical control of all prehospital medical components within the community, including all BLS first responders and ALS transport. The opportunity exists to nourish any special interest that a fellow may have regarding a future in prehospital medicine.
EMS Education
The Center for Prehospital Medicine provides instruction for courses including primary paramedic education combined with CPCC and numerous adjunct courses and in-service modules for Medic. Based on the academic programs offered, the Center was first to be approved as a primary teaching site by the North Carolina Office of EMS and has been fully accredited by the Committee on Accreditation of Educational Programs for EMS Professions (CoAEMSP). Full-time and adjunct faculty provide the curriculum development, course content, didactic lectures, clinical rotations, and lab sessions. The EMS fellow is involved with program administration and all levels of teaching. There are multiple opportunities to provide in-service education to emergency medicine residents, Medic staff and first responder personnel. A medical education and simulation center developed several years ago is also available for hands-on instruction. This state-of-the-art facility incorporates simulated, controlled environments, high-fidelity mannequins (including a human patient simulator) and ambulance simulator.
Tactical EMS
Medic has developed a tactical medical support unit that provides medical coverage for the Charlotte-Mecklenburg Police SWAT (Special Weapons and Tactics Team) and other police department SWAT teams within Mecklenburg County. The tactical medics and medical director participate in all drills and training exercises and respond with the team whenever a deployment occurs. A dedicated tactical EMS SUV has been integrated and contains all equipment and supplies necessary for tactical deployments. Additional opportunities for the tactical paramedics include deployments with the Charlotte-Mecklenburg Police Department's Civil Emergency Unit and the Aviation..
Field Response
The EMS fellow has a dedicated 4-wheel drive SUV adapted for emergency response with warning lights and siren. While there is not a mandate to respond, the medical director and EMS fellow are paged on particular calls and response is encouraged. All medical care equipment is provided including personal protective equipment, cardiac monitor/defibrillator, airway equipment, ultrasound and prehospital medications and supplies. The EMS fellow plays an integral role in providing stand-by medical coverage for working fires, hazardous materials incidents, and any incident resulting in mass casualties.
Administrative Duties
Fellows are required to assist in all off-line duties provided by the medical director. Assessment centers for new hires include a battery of interviewing and testing, and the patient care protocols are evidence-based and fluid in nature, constantly changing to meet the needs for the changing community and healthcare advancement. The fellow will be required to draft new protocols and to re-engineer existing ones. Similarly, new equipment and medications are constantly being reviewed and implemented if selected. The medical director and EMS fellow review all priority transports as part of the quality improvement process. Deficiencies are handled in a due process review format, with the fellow becoming involved in all clinical incident reviews. The fellow will work closely with Quality Improvement and Education Analysts to review specific data, evaluate trends in system performance, develop simulation scenario-based training, and to identify opportunities for system expansion and process improvement.
Mass Gathering Medical Support
The fellow, in cooperation with the Event Medicine Team, are responsible for medical oversight for all special events coverage at multiple sites including the Bank of America Stadium (Carolina Panthers NFL), the Charlotte Motor Speedway (NASCAR racing), the zMax Dragway (NHRA racing), Knights Stadium (Charlotte Knights AAA baseball), the Wells Fargo Championship (PGA tournament), the Charlotte Convention Center, and other venues as requested. The fellow will assist in coverage at all Bank of America Stadium and Charlotte Motor Speedway events and has the option to participate in others as interested. The fellow will be provided a full access pass and credentials at all venues.
Air Medical Services
The EMS Fellow has the option of participating on the flight team with MedCenter Air at Carolinas Medical Center operates air and ground critical care transport resources. Helicopters include four American Eurocopter EC135 P2+. Each is stationed at one of three operational bases across the referral region. In addition, two Beechcraft King Air 200 turboprop fixed wing aircraft and two Cessna Citation 560 series jets are also part of the service. Helicopter EMS responds to approximately 1200 flights each year, 30% of which are scene responses. EMS fellows have the option of participating on the flight team and with in-service education and quality improvement processes.
Disaster and Terrorism Preparedness
Carolinas Medical Center serves as the central facility for all disaster and preparedness activities for the Metrolina region. The fellow assists in disaster preparedness for the hospital and the regional facilities as well. Creating a coordinated system response and identification of resources for incapacitated facilities or for those experiencing surge capacity is the ultimate goal. As the only Level-1 Trauma Center in the region, Carolinas Medical Center has undergone extensive renovation and prepared personnel for responding to a chemical or biological attack, including employing a full time Disaster and Emergency Preparedness Coordinator and the development of a Hospital Disaster Response Team.
Carolinas MED-1


It is understood that hospital surge capacity and vulnerability increases with disasters resulting in mass casualties; therefore, the decision was made to create an alternative treatment facility to augment existing resources or to support the capabilities of local healthcare systems. The staff at Carolinas Medical Center and Medic developed Carolinas MED-1 over a three-year period to include the necessary and anticipated level of care required when disasters or mass casualty incidents occur. This one-of-a-kind mobile treatment facility is designed and equipped to address a wide range of emergency medical conditions. Emergent operative surgery, orthopedic stabilization, wound repair, burn treatment, and management of multiple medical problems are all possible.
EMS Administration
The EMS fellow has the opportunity to participate in all components of the EMS system including operations, communications, fleet maintenance, ambulance design and purchasing, materials management, human resources, budget preparation and auditing, and systems status management. The fellow also interacts with all affiliated first responder and law enforcement agencies.
Compensation
Salary is at the PGY-4 level. All fellows and their dependents are provided medical, prescription drug, and dental coverage. Professional liability, life, and disability insurance, along with three weeks of paid vacation and $1,900 for continuing medical education for the academic year. View additional information regarding compensation and benefits. Office space is provided on the hospital campus and at Medic so that the fellow is integrated into the entire system. To facilitate field response, an emergency response vehicle is assigned to the fellow as indicated above. For communication purposes, an EMS Fellow smartphone, 800 mHz radio and laptop computer are provided.

Mecklenburg EMS Agency (Medic)
Mecklenburg EMS Agency (Medic) was established in 1978 as a third-service/municipal system endorsed and supported by the Mecklenburg Board of County Commissioners. The system has progressed over the years through all levels of provider certification, and currently is described as a single-tier, all advanced life support paramedic service.
In an effort to improve service delivery, the two hospital systems in Charlotte Atrium Health and Novant Health, introduced a proposal to the Board of Commissioners to administer and operate the EMS system as a joint agency. The proposal was accepted, and on Oct. 8, 1996, the Mecklenburg EMS Agency was initiated. Since that time, multiple improvements in all components of the EMS system have been realized. Medic reaches all emergency, life-threatening calls in less than 9 minutes 59 seconds for at least 90% of the calls received.
Medic is the single provider of all 9-1-1 and prescheduled transports in Mecklenburg County. An Ambulance Franchise Ordinance exists which prohibits 9-1-1 competition. First responder services are provided by the Charlotte Fire Department within the city limits of Charlotte and by 14 volunteer fire and rescue squads in the incorporated and unincorporated areas of the county. All first responder services are under contractual agreements with Medic and all personnel are under the aegis of medical control, functioning at the EMT-Basic level of care. The annual Medic call volume exceeds 145,000 call responses, approximately 115,000 of which result in hospital transport, making it the largest EMS system in North Carolina. 15% of these calls are considered critical or life-threatening.
Medic moved into their new headquarters location in January 2018. This 180,000 square foot central operations facility incorporates all components of the system including Administration, Clinical Affairs, Operations, Human Resources, Materials Management and warehouse, Communications, fleet services, and building maintenance.
Administration
The Administrative Division coordinates all human resource efforts which include all employee benefits, safety and risk management, and occupational safety. An occupational health nurse is on-site full time to assist with routine and preventative health and wellness. Assessment centers for new hires and new employee orientation programs are supervised by the human resources staff. The quality improvement staff and all office support staff are also components of the administrative functions of Medic. Several full-time quality improvement analysts oversee all Medic databases and assist in multiple clinical and operational projects.
Medical Services
The Medical Services Division provides oversight to all clinical patient care components of the system. In-service education programs are conducted year round and include didactic and skill sessions, evaluation, and testing to ensure employee competence. An education supervisor ensures that all certifications are current and that all employees are attending the in-service programs.
Operations
The Director of Operations and Operations Manager oversee the day to day activities of the system. Shift supervisors are present 24-hours a day ensuring that staffing levels are appropriate and that the system is running appropriately. Medic incorporates its own communications center, logistics staff and warehouse, and fleet services department.
The Charlotte-Mecklenburg Police Department serves as the primary PSAP (Public-Safety Answering Point) for incoming 9-1-1 calls. Medical calls are immediately forwarded to the Central Medical Emergency Dispatch Center. This communications center is under the direction and control of Medic. All telecommunicators are certified at the Emergency Medical Dispatcher level. The Medical Priority Dispatch System is used for call screening and prioritization. Communications Supervisors serve as system status controllers, with each ambulance incorporates a GPS and mobile mapping system.
Carolinas Medical Center
Carolinas Medical Center is a 874-bed, community-based, tertiary care teaching hospital that serves as the only regional level-I trauma center, the State Poison Control Center, and is a tertiary referral center for Mecklenburg County and 16 surrounding counties in North and South Carolina. It is the flagship facility for the network that includes acute care facilities, subacute facilities, and clinics in North and South Carolina. Levine Children's Hospital, located on the CMC campus, is a 234-bed children's hospital with a 24/7 children's emergency department. Residency programs exist in all specialties including Emergency Medicine. The Emergency Medicine Residency is a PGY 1-3 program that includes 42 residents. Fellowship positions are offered in EMS, Toxicology, Ultrasound, Pediatric Emergency Medicine, Global Emergency Medicine, Operational and Disaster Medicine and Research. There are 38 academic faculty members in the Department of Emergency Medicine.
Emergency Department
The Emergency Department at Carolinas Medical Center manages over 115,000 patients each year. The department features an unusually diverse mix of patient care opportunities including 30 percent medical, 27 percent surgical/traumatic, 25 percent pediatric, 15 percent obstetrical-gynecological, and 3 percent psychiatric and toxicological. Further, the socioeconomic diversity of our patient population sets us apart from other institutions. There four treatment areas: Major Treatment, Diagnostic Center, Ambulatory Emergency Center and a Children's ED. Patients are triaged to one of these four areas based on the acuity of illness.
Three to five board-certified emergency medicine faculty members are present in the open areas 24-hours a day. Within the department is a satellite radiology suite. Additional features include digital X-ray, electronic charting with physician order entry, point-of-care testing, EM ultrasound, and wireless networking.
Research
The Cannon Research facility was completed in 1991 and serves as a small and large animal lab for all clinical departments in the medical center. The Department of Emergency Medicine has dedicated lab space, including two operating rooms and a small animal lab. Support personnel include two research scientists at the Ph.D. level, two clinical research nurses, and four lab technicians.
top

Charlotte and the Surrounding Area
Charlotte is located in the southern Piedmont region of North Carolina. Two large lakes, Lake Norman and Lake Wylie, are situated at the northwest and southwest corridors of the county. Driving time to the Great Smoky Mountains is approximately three hours, and approximately four hours to North and South Carolina beaches, including the Outer Banks, Myrtle Beach, Charleston, and Hilton Head. The summers are hot and winters mild with occasional snow falls and ice storms. Mecklenburg County is 552 square miles, with the city limits of Charlotte comprising about 285. The population is around 1 million residents, with an additional weekday commuter influx of about 150,000.
Charlotte is a city of both traditional and modern tastes. The city's architecture blends historical homes and new developments. It is home to many corporate headquarters and major industrial employers. The city offers more than 700 different houses of worship in all denominations. This area of North Carolina is famous for its family atmosphere and southern charm. There is a huge variety of clubs, pubs, sports bars, restaurants, gallery crawls and coffee houses. Fine arts include the Charlotte Symphony Orchestra, Discovery Place, Mint Museum of Art, Blumenthal Performing Arts Center, North Carolina Dance Theater and Opera Carolina. Sporting events include the Carolina Panthers NFL team, the Charlotte Hornets NBA team, Charlotte Motor Speedway for NASCAR events, The PGA's Wells Fargo Championship Golf Tournament at the Quail Hollow Club, the Charlotte Checkers minor league hockey team, the Charlotte Knights minor league baseball team, and various NCAA sporting events at UNC Charlotte and Davidson College.
Weather in Charlotte
January: average low 30º - average high 49º
June: average low 70º - average high 89º
Sunny days: 214/ year
Average precipitation: 43.1 in./year
Average snowfall: 5 to 6 in./year
For More Information about Charlotte, visit the Charlotte Chamber of Commerce.
Interested Applicants
Interested applicants should download the electronic application. A completed application and your curriculum vitae may be sent via email or traditional mail to the email or address below. Additionally, each individual listed as a reference on your application should forward a letter of reference to our office. If we can provide additional information concerning our program or your decision, please do not hesitate to contact us.
Interviews
Interviews will be scheduled for September and October. Our EMS fellowship is a part of the National Residency Match Program.
Dr. S. Tyler Constantine
EMS Fellowship
Center for Prehospital Medicine
P.O. Box 32861
Charlotte, NC 28232
Phone: 704-355-8660
Fax: 704-370-2772

Current and Past Fellows:
2020 - 2021
Keegan Bradley
Medical School: Texas A & M
2019 - 2020
Andrew Bouland
Medical School: University of Maryland
2018 - 2020
David Callaway
Medical School: Georgetown University
2018 - 2019
Andrew Godfrey
Medical School: University of Louisville
2017 - 2018
Joshua Loyd
Medical School: Virginia Commonwealth University
2016 - 2017
S. Tyler Constantine
Medical School: Albert Einstein College of Medicine
2015 - 2016
Kimberly Baldino
Medical School: Rutgers Robert Wood Johnson
2014 - 2015
Andrew Thomas
Medical School: University of Florida
Erin Noste
Medical School: University of California-Davis
2013 - 2014
Scott Alter
Medical School: Rutgers Robert Wood Johnson
2012 - 2013
Steven Barmach
Medical School: Thomas Jefferson University

2011 - 2012
Eric Hawkins
Medical School: The university North Carolina at Chapel Hill
2010 - 2011
Kelly Gahan
Medical School: University of Colorado
2009 - 2010
Roz Reades
Medical School: The University of Texas
John Garrett
Medical School: Case Western Reserve University
2007 - 2009
Lars Thestrup
Medical School: Virginia Commonwealth University
2006 - 2007
Jim Montoya
Medical School: The Ohio State University

2005 - 2006
David French
Medical School: The University of North Carolina at Chapel Hill
2003 - 2005
Jonathan Busko
Medical School: University of Pittsburgh

2002 - 2003
Nael Hasan
Medical School: Medical College of Virginia
2000 - 2002
Lynn Flowers
Medical School: University of South Carolina
Doug Swanson
Medical School: University of South Florida
1999 - 2000
Brian Duncan
Medical School: New York Medical College
Suzanne Martens
Medical School: Medical College of Wisconsin
1998 - 1999
Jonathan Apfelbaum
Medical School: The University of Utah
Kimberly Mitchell
Medical School: University of Illinois
1997 - 1998
Eric Ossman
Medical School: Southern Illinois University
Scott Sasser
Medical School: Tulane University
1996 - 1997
Dan Roberts
Medical School: The University of Texas
1995 - 1996
Melissa Brokaw