The Department of Family Medicine at Carolinas Medical Center joins other Charlotte community leaders in reaching out to underserved populations. As the urban center of Charlotte grows, so do challenging inner city problems, such as homelessness, violence, AIDS and teenage pregnancy. To help address these and other health and social problems at the community level, Carolinas Medical Center has created an urban health center and training program.
The urban training site was started in 1996 to address the special needs of urban Charlotte and to provide unique educational opportunities to those interested in undeserved care. It is located four miles from Carolinas Medical Center (CMC). The CMC Biddle Point Family Practice offers innovative collaboration with the Mecklenburg County Health Department. Now the largest city between Washington, D.C., and Atlanta, Charlotte is acquiring many features of these large metropolitan areas, while retaining much of its Southern culture.
Our urban track offers a novel and innovative family medicine training experience. We accept three residents per year to the urban track. Residents work with committed family physicians in an innovative healthcare delivery model focusing on team-based model of care and community involvement. Residents in the urban track participate in all curriculum offered by the Department of Family Medicine.
CMC Biddle PointFamily Practice was opened by Atrium Health in 1997 as a community health center serving western and central Charlotte neighborhoods. The practice includes physicians and other healthcare professionals who provide various services. The residents selected for the urban track will have their continuity family medicine experience at Biddle Point and will work side-by-side with family physicians who also serve as preceptors.
CMC Biddle Point Physicians
Emily Cooper, MD, MHA
Biddle Point Family Practice Medical Director
Emily Cooper, MD, MHA, received her undergraduate degree in Health Education from Virginia Polytechnic Institute and State University. She earned her Doctor of Medicine and Master in Health Administration degrees from the Virginia Commonwealth University Schools of Medicine and Health Administration. She completed her residency training here at the CMC Family Medicine program in the Urban Track at Biddle Point. She also served as Chief Resident in her last year of training.
After residency, Dr. Cooper moved back home to the Norfolk/Virginia Beach area and practiced outpatient medicine in two health systems. She never lost her desire to work with underserved populations and that is what lured her back to Charlotte. She spent two years working with the rural underserved in Anson County before joining the team at Biddle Point to serve as Medical Director. She has special interest in the adolescent population, but enjoys doing full spectrum family centered care. She does also enjoy working with the larger health system to more fully impact the larger community.
She has many outside interests and lives in Charlotte with her husband and young daughter. She enjoys scrapbooking, traveling and eating out at the many restaurants in the Charlotte region.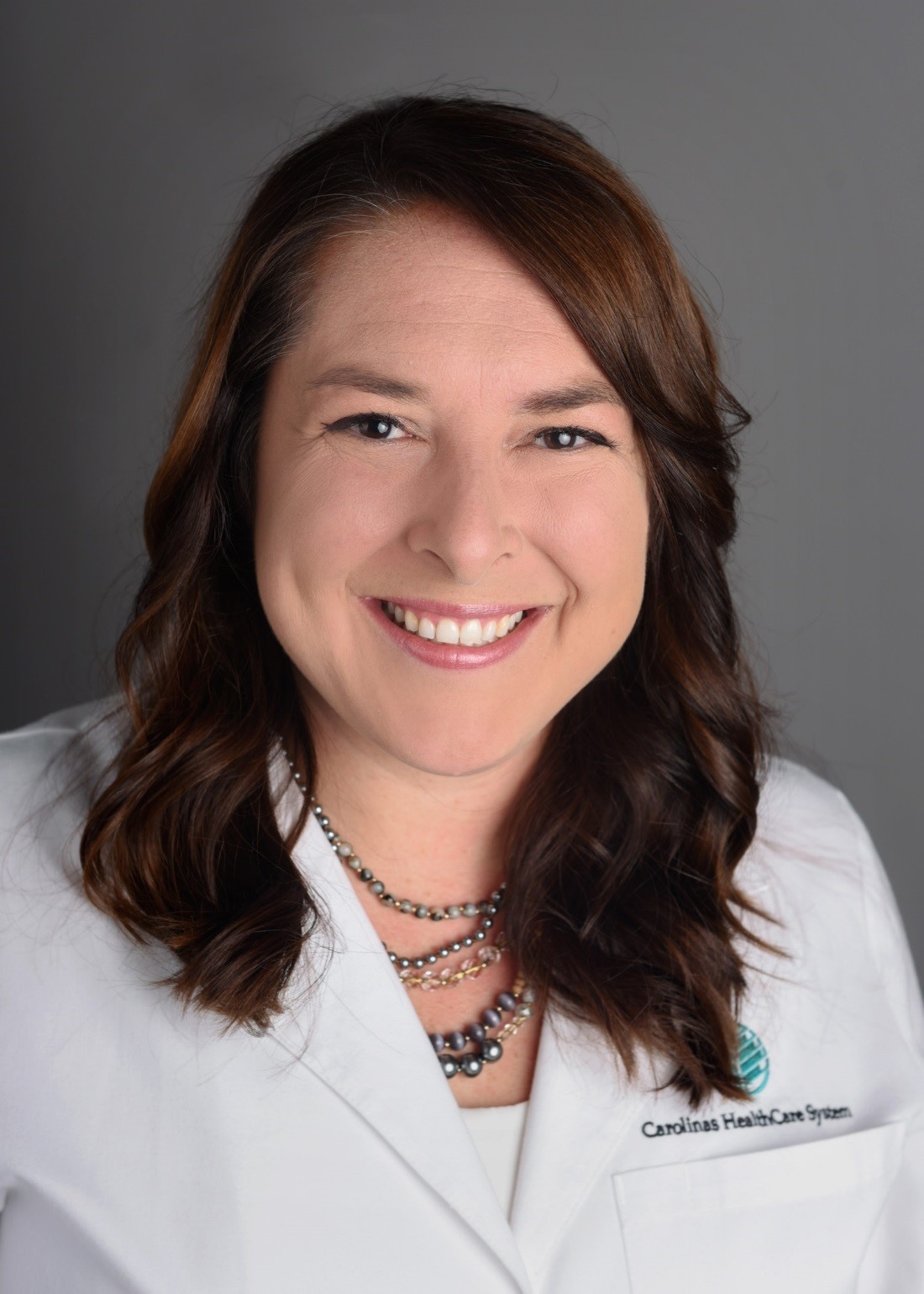 Christina M. Garcia, DO, MPH
Biddle Point Track Site Director
Christina Garcia, DO, MPH received her undergraduate degree in Sociology from THE Ohio State University and her Doctor of Osteopathy degree from Ohio University Heritage College of Osteopathic Medicine. While at Ohio University she also earned an African Community Health Certificate and was a Primary Care Associate where she spent an additional year as junior faculty teaching, tutoring and mentoring first- and second-year medical students and working on scholarly projects. She completed her residency training at Christ Hospital/ University of Cincinnati Family Medicine program.
After residency, Dr. Garcia moved to Chapel Hill, NC to pursue a Master in Public Health and a Global Health Certificate at University of North Carolina while providing care to the underserved at a Federally Qualified Health Center. She served in the National Health Service Corp for 2 additional years at the same FQHC prior to moving to Charlotte.
Currently, she serves as the Urban Track Residency Site Director housed at Biddle Point Family Practice. Her career interests include Global and Community Health, Maternity Care, Quality and Population Management.
Outside of work, Dr. Garcia enjoys spending time with family and friends traveling, cooking and staying active.
Heather Burney, MD
Heather Burney, MD, spent her early years in Jamaica before moving to the US at age 10. She obtained her undergraduate degree from Duke University and went to Ohio State University for medical school. She completed the Family Medicine Residency program at CMC serving as the chief resident in her final year. She continued her tenure at Biddle Point after finishing residency, serving the local community and beyond.
Dr. Burney discovered her love for teaching along her professional journey and enjoys working with medical students and residents as a community preceptor in the urban track of the Family Medicine Residency Program. She also loves giving presentations in the community on various topics and has a recurring speaker role educating teenage girls about STD and pregnancy prevention as part of a life skills development group. She loves the care of the entire family and enjoys taking care of patients in all stages of life from newborns to geriatrics including prenatal care.
Dr. Burney has a passion for underserved populations across the globe and enjoys traveling for any reason whether that is on a mission trip or for vacation. She has been part of mission trips to Jamaica, Dominican Republic, Haiti and Kenya and did an away rotation in South Africa during residency. She is a sports fanatic and can't survive without her daily dose of ESPN. She also enjoys cooking, eating out at ethnic restaurants and singing in her church choir.
Talaya Clark, MD
Dr. Talaya Clark is a family medicine physician at Carolinas Healthcare System. Her clinical practice is based at the Urban Underserved site of CMC Biddle Point. Dr. Clark has worked with the underserved population for 14 years. She has been a community preceptor for the last ten years at this site. She does a full spectrum of family medicine. Prior to pursuing medicine, Talaya Clark was a chemical and biomedical engineer and this knowledge and analytical approach has transferred to her patient care approach. Dr. Clark has an interest in Psychiatry and hopes to pursue additional training and guidance in that area. She also enjoys exercise, modeling and spending time with family and friends.

Nneka Hendrix, MD
Nneka A. Hendrix, M.D. was raised in Omaha, Nebraska where she graduated cum laude with a B.S. in Biology from Creighton University. She earned her medical degree from the University of Cincinnati College of Medicine and went on to complete a residency in Family Medicine at Carolinas Medical Center while serving as Chief Resident in her final year.
Dr. Hendrix is Board-certified and has been practicing a broad spectrum of family medicine while training residents in her role as community preceptor for the last 16 years at CMC Biddle Point. Her special interests are in early childhood development and literacy. She served on the Reach Out and Read Advisory Board for 6 years and is now the designated Medical Champion in her office for this program. Dr. Hendrix also has a practice emphasis in women's health.
Nneka has been married to her husband for 11 years and enjoys spending quality time with him and their children. In her spare time, she loves cooking and watching the Food Network, entertaining friends and gardening.

Cynthia Hill, MD
Dr. Cynthia Hill is originally from Petersburg, VA. She received her undergraduate degree from the University of Virginia. She graduated from the Medical College of Virginia, then remained there for residency. After completing her Family Medicine residency in 1998, she moved to Charlotte and joined University Family Physicians. Over the next few years, she volunteered with various community clinics and had the opportunity to work at CMC Biddle Point as a community preceptor. In 2002, she accepted a position as an attending physician at Biddle Point. Dr. Hill is committed to providing quality health care in underserved patient populations. She also enjoys promoting health and wellness in the community. When she's not working, she enjoys exercise and travel.
Douglas Meardon, MD
Douglas Meardon, MD is a North Carolina native Born and raised. He attended UNC-Chapel for his undergraduate degree in Biology and The George Washington University for Medical School. He moved to Charlotte in 2013 to completed residency at CMC-Family Medicine in the Urban Track. During residency, he was awarded the Louisa Littleton, MD Award for his commitment to the underserved. He loved Charlotte so much that he decided to stay and start his family.
Dr. Meardon was a National Health Service Corp Scholarship recipient and started his career at a federally qualified health center in rural, NC provided care to in health resource limited populations. He joined the Atrium-Biddle Point practice to have more dedicated teaching time and continue his HIV practice. Professional interests including LGBT care, HIV primary Care including Prevention. Outside of work, he enjoys spending time with his family, traveling and reading nerdy sci-fi novels.
Located just four miles from Carolinas Medical Center, CMC Biddle Point Family Practice:
Is located in a vibrant African-American community with growing Latin and Southeast Asian populations
Offers innovative collaboration with the Mecklenburg County Health Department
Features a physician staff trained and experienced in urban family medicine
Is a community-oriented, primary care model